Corteva Agriscience Becomes Exclusive Distributor of Piper® EZ Herbicide
08 March 2022, Indianapolis: Corteva Agriscience, a leader in vegetation management solutions for more than 50 years, has reached an agreement with Valent U.S.A. LLC to become the exclusive distributor of Piper® EZ herbicide within the United States. Available through Corteva authorized distributors for the 2022 season, Piper EZ herbicide is a new suspension concentrate liquid formulation that serves as an excellent tool for maintaining control of select grasses and broadleaf weeds as well as bareground results throughout multiple noncrop use sites.
"Corteva Agriscience is committed to providing chemistries and solutions that enhance results and program flexibility for our customers," said John Kalthoff, Marketing Category Lead, Land Management, Corteva Agriscience. "The immediate availability of Piper EZ herbicide allows our authorized distributors to provide a highly effective preemergence herbicide ahead of the upcoming growing season."
In addition to providing preemergence control, Piper EZ herbicide and tank-mix partners, such as TerraVue® herbicide from Corteva Agriscience, are capable of providing postemergence control after targeted species have emerged earlier in the year.
"Weed resistance can be a common issue for vegetation management professionals," said Sam Ingram, Field Scientist with Corteva Agriscience. "Piper EZ herbicide contains two active ingredients with differing modes of action that enhance resistance management. At a use rate of 16 to 20 fluid ounces per acre, these chemistries maintain activity on EPSP synthase-resistant weeds, such as glyphosate-resistant Italian ryegrass, and serve as essential components of total vegetation control programs."
Fully registered through the U.S. Environmental Protection Agency, Piper EZ herbicide is recommended for a variety of use sites where bareground results are desired, including:
Roadsides
Utility Rights-of-Way
Railroads
Airports
Other noncrop sites
"New weed species invade a variety of application sites each year," Ingram said. "As a result, even the most commonly used herbicide products falter in performance over time. Piper EZ herbicide delivers new modes of action for vegetation management professionals that can knock these species back and prevent the emergence of germinating seedlings throughout the growing season to enhance program efficacy in 2022 and beyond."
Glyphosate Resistant Italian Ryegrass (GH) 28 DAA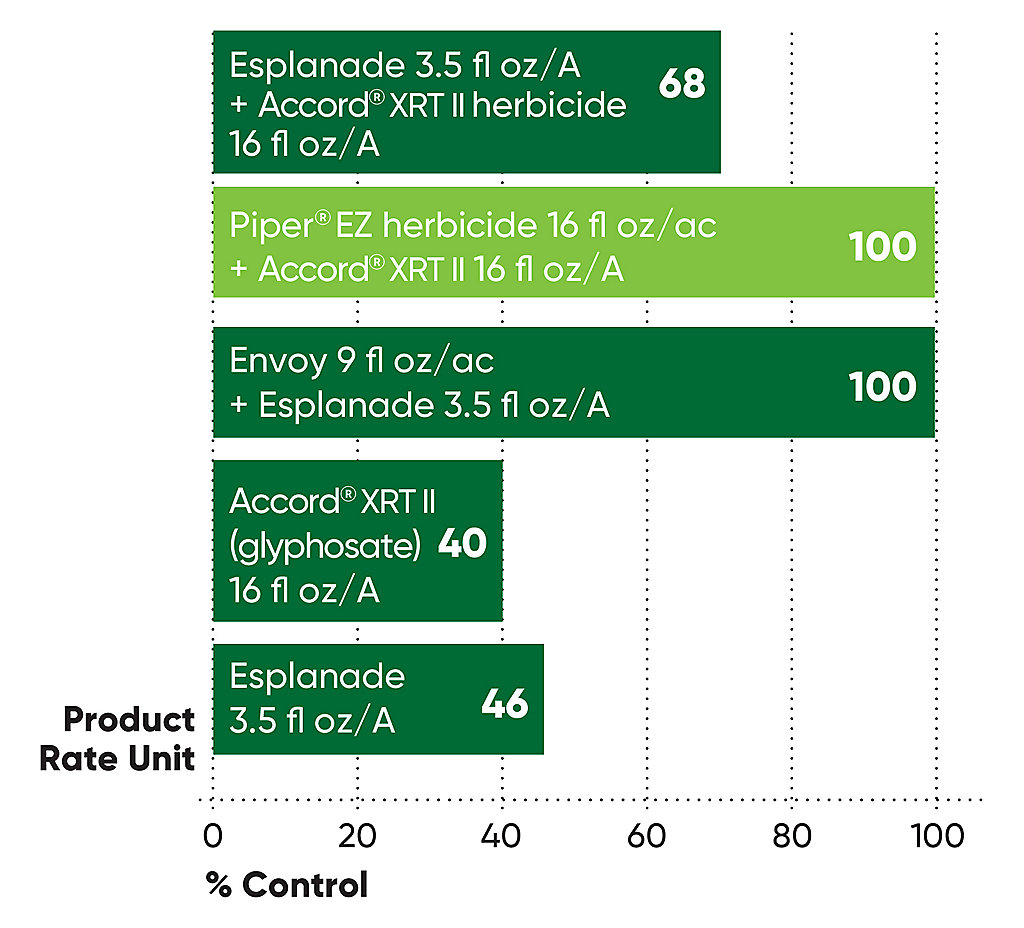 Tank mixes of Piper® EZ herbicide are shown to rival results achieved by competitive products for Italian ryegrass control. All treatments tank-mixed with 1% COC, Dr. Patrick McCullough, UGA.